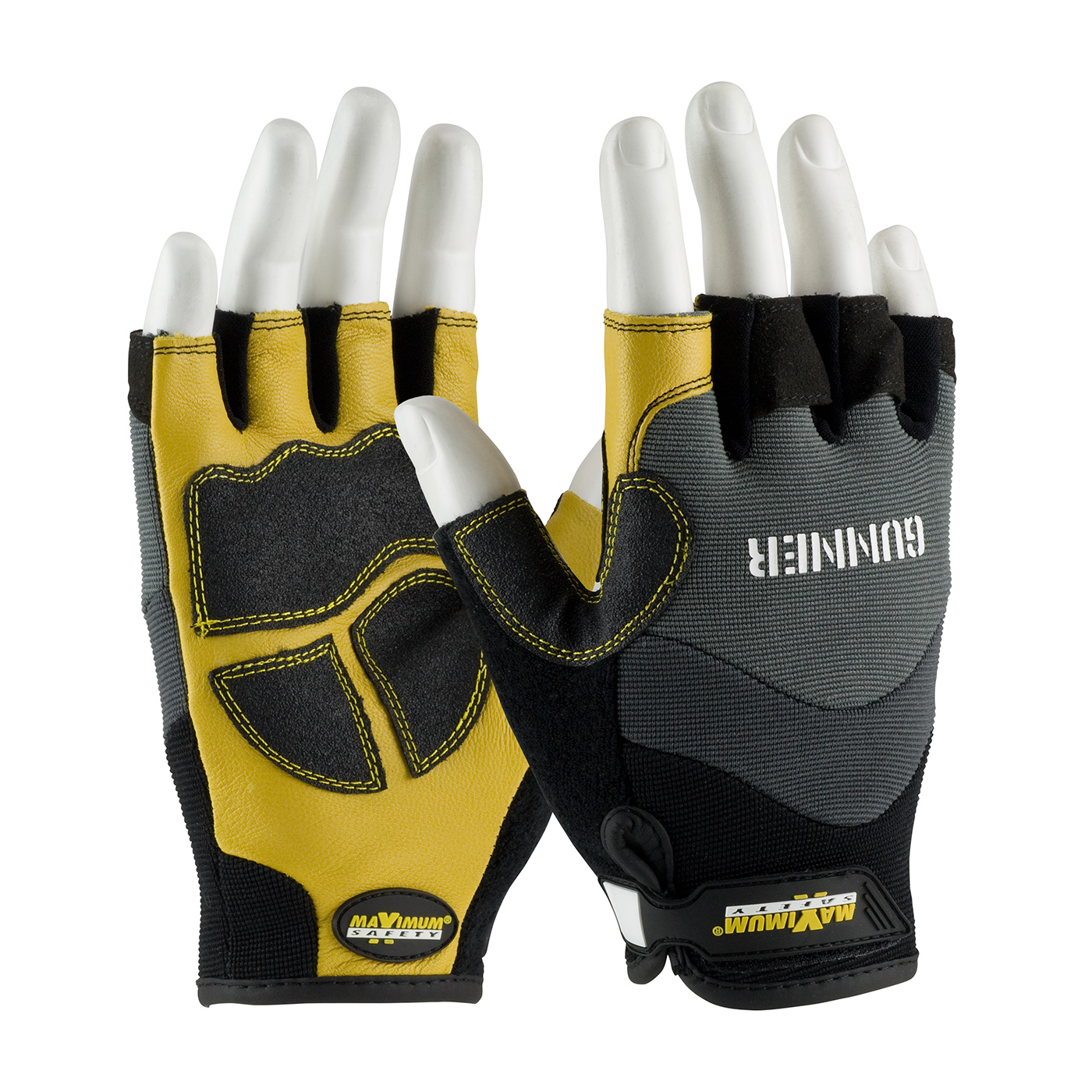 Maximum Safety
®
Gunner™
120-4300
SIZES: S-2XL
PACKED: 72 Pair/Case
Country of Origin: Pakistan
Back: Neoprene
Coating: PVC
Grip: Sandy
VIEW SPEC SHEET
Back: Neoprene
Adds comfort and breathability.
Coating: PVC
Durable resistance and barrier protection against petrochemicals, oils and grease. While it is flexible, PVC does not provide the tactile sensitivity associated with most rubber products.
Grip: Sandy
Premium Sandy finishes enhance abrasion and cut protection while providing excellent protection in wet and rugged applications.
PRODUCT DESCRIPTION
Ideal for light construction, auto repair, manufacturing, fabrication, landscaping.
FEATURES
Goatskin leather palm and half fingers provides the softest, most abrasion-resistant leather and is highly recommended for applications requiring tactile sensitivity
PVC sandy grip on palm and thumbcrotch provides an enhanced grip and extra cut/abrasion resistance
Spandex fabric back for comfort and breathability
Synthetic leather fourchettes enhance the natural contour of the glove for a better fit
Synthetic leather pull off hooks for easy on/off
Micro cotton thumb for comfort
Hook & loop closure for easy on/off and a secure fit
Hi-Vis coloring and reflective back makes this product very easy to see
Launderable for extended life and to reduce replacement costs
The Maximum Safety® brand of Hi-Performance gloves was developed to provide the added protection needed that most gloves aren't designed to provide. Depending on your needs, Maximum Safety® provides various solutions for impact protection, cold protection, heat protection, FR and AR protection, and more! Advancements in our design also provide ergonomic solutions that increase comfort while reducing hand fatigue.
View Products