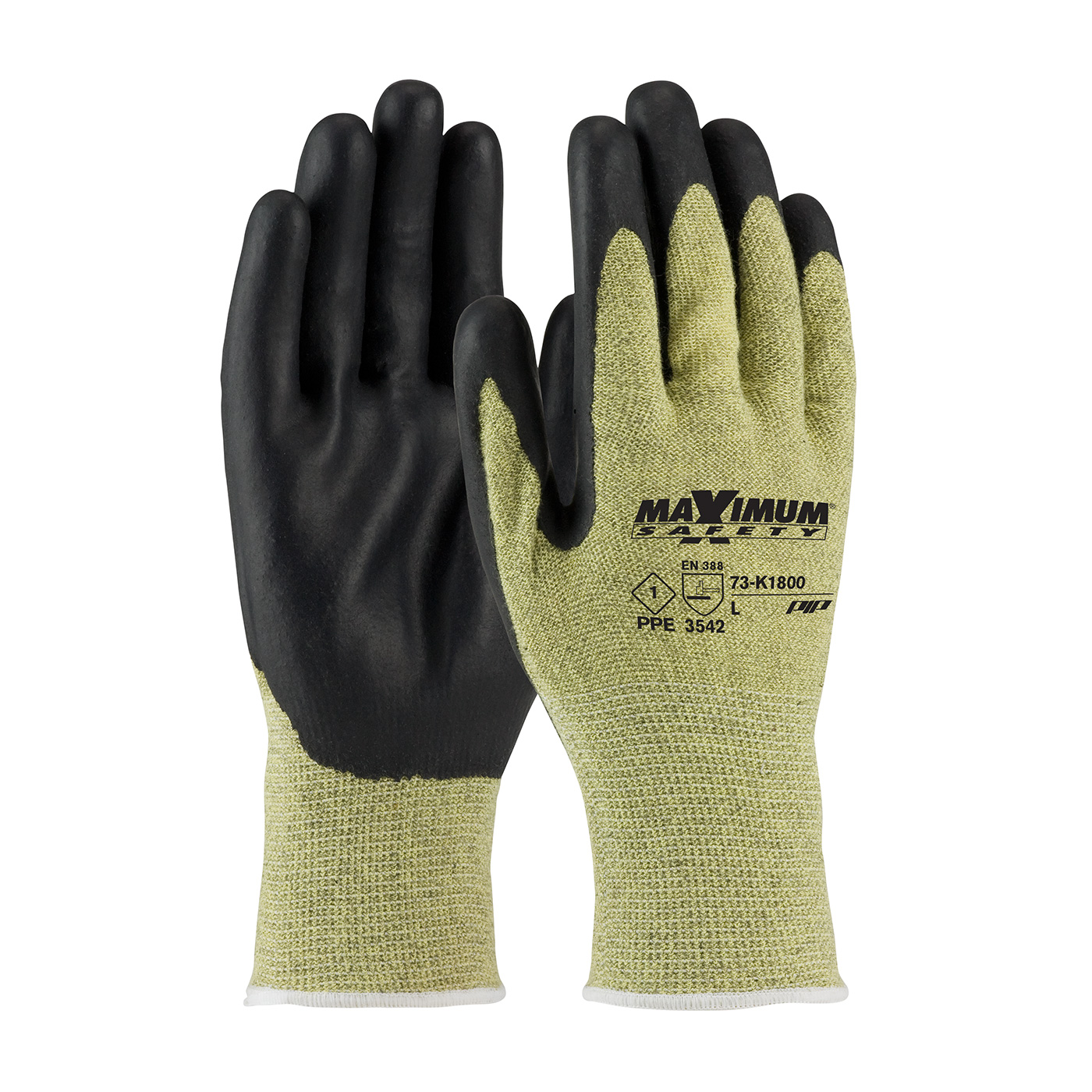 Maximum Safety®
AR/FR Seamless Knit Aramid Glove with Nitrile Coated Smooth Grip on Palm & Fingers
73-K1800
Grip: Smooth
Smooth: Available in a variety of polymers such as latex, nitrile, PVC, Neoprene and Polyurethane. Smooth coatings provide the wearer an excellent dry grip. Liquids will not absorb into the coating which will keep the hands dry.

View All Smooth
Product Description
Ideal for use in petrochemical, oil/gas and utilities applications.
Features
Arc Rating: ATPV 7.4 cal/cm2 (ASTM F2675 / ASTM F2675M)
PPE 1 (HRC 1)
Seamless construction offers increased comfort and breathability
Aramid fiber liner adds heat resistance, cut resistance and strength
Foam Nitrile coated palm and fingers are compatible with light oils and will provide a good grip and excellent abrasion resistance
Knit Wrist helps prevent dirt and debris from entering the glove
Color coded hems for easy size identification
Seamless Knit Aramid Blended Shell
10 Gauge
Black Nitrile Microsurface Grip
Palm & Fingertips
Knit Wrist
ATPV 7.4 cal/cm2
EN388 Results: 2542CX
EN 388 2016 Results:Abrasion: 2Cut (Coupe Test): 5Tear: 4Puncture: 2Cut (TDM-100 Test): CImpact Protection: X
EN 388 is a European Standard. Cut Level is determined by the number of cycles it takes a spinning circular blade, that is pulled across the material under a constant weight of 500 grams, to cut the fabric. As the number of cycles increase, so does the glove's ratings. Click here for more information about the EN 388 2016 standard.
The Maximum Safety® brand of Hi-Performance gloves was developed to provide the added protection needed that most gloves aren't designed to provide. Depending on your needs, Maximum Safety® provides various solutions for impact protection, cold protection, heat protection, FR and AR protection, and more! Advancements in our design also provide ergonomic solutions that increase comfort while reducing hand fatigue.
View Products