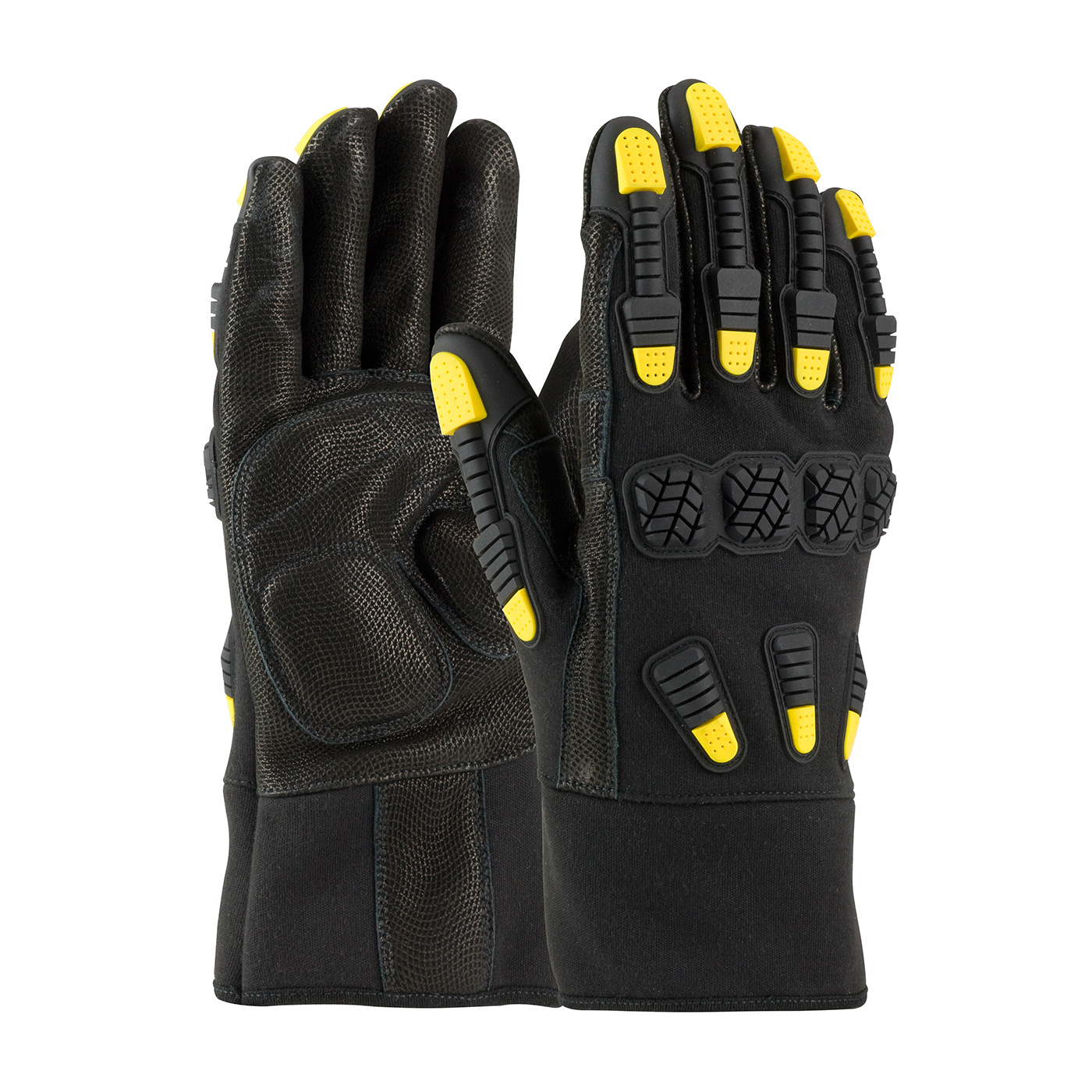 Maximum Safety
®
FR Treated Hi-Performance Goatskin Leather Palm Glove with Aramid Back and TPR Protection
73-2000
Back: Aramid
Provides added heat resistance and strength.
PRODUCT DESCRIPTION
Ideal for material handling, stamping, grinding, cut resistance and multitasking where welding could be part of the task.
FEATURES
FR treated synthetic goatskin leather palm for heat protection
Aramid fabric back for added heat resistance and strength
Digitized goatskin leather grip for on palm and fingers for enhanced handling power
Internal foam padded palm absorbs and dampens shock
Thermo Plastic Rubber (TPR) protection on fingers, knuckles and back of hand for pinch point and dorsal protection
Reinforced thumb crotch for extended glove life, enhanced comfort, increased abrasion resistance and added durability in a high-wear area
Stitched with Kevlar® adding strength and burn resistance
Slip-On cuff allows for easy on and off
EN388 Results: 3122XX
EN 388 2016 Results:
Abrasion: 3
Cut (Coupe Test): 1
Tear: 2
Puncture: 2
Cut (TDM-100 Test): X
Impact Protection: X
EN 388 is a European Standard. Cut Level is determined by the number of cycles it takes a spinning circular blade, that is pulled across the material under a constant weight of 500 grams, to cut the fabric. As the number of cycles increase, so does the glove's ratings. Click here for more information about the EN 388 2016 standard.
Self-Extinguishing
Self Extinguishing garments are made from material that is not inherently flame retardant, but are chemically treated to become flame resistant. They are NOT designed for use in ARC flash or flash fire applications. When a flame source is removed from the treated material, the material will self-extinguish within a given time frame. The treated material can melt and drip and has a limited life span dependent on washings and what the garment is exposed to. Performance is established using the ASTM D6413 test method.
The Maximum Safety® brand of Hi-Performance gloves was developed to provide the added protection needed that most gloves aren't designed to provide. Depending on your needs, Maximum Safety® provides various solutions for impact protection, cold protection, heat protection, FR and AR protection, and more! Advancements in our design also provide ergonomic solutions that increase comfort while reducing hand fatigue.
View Products