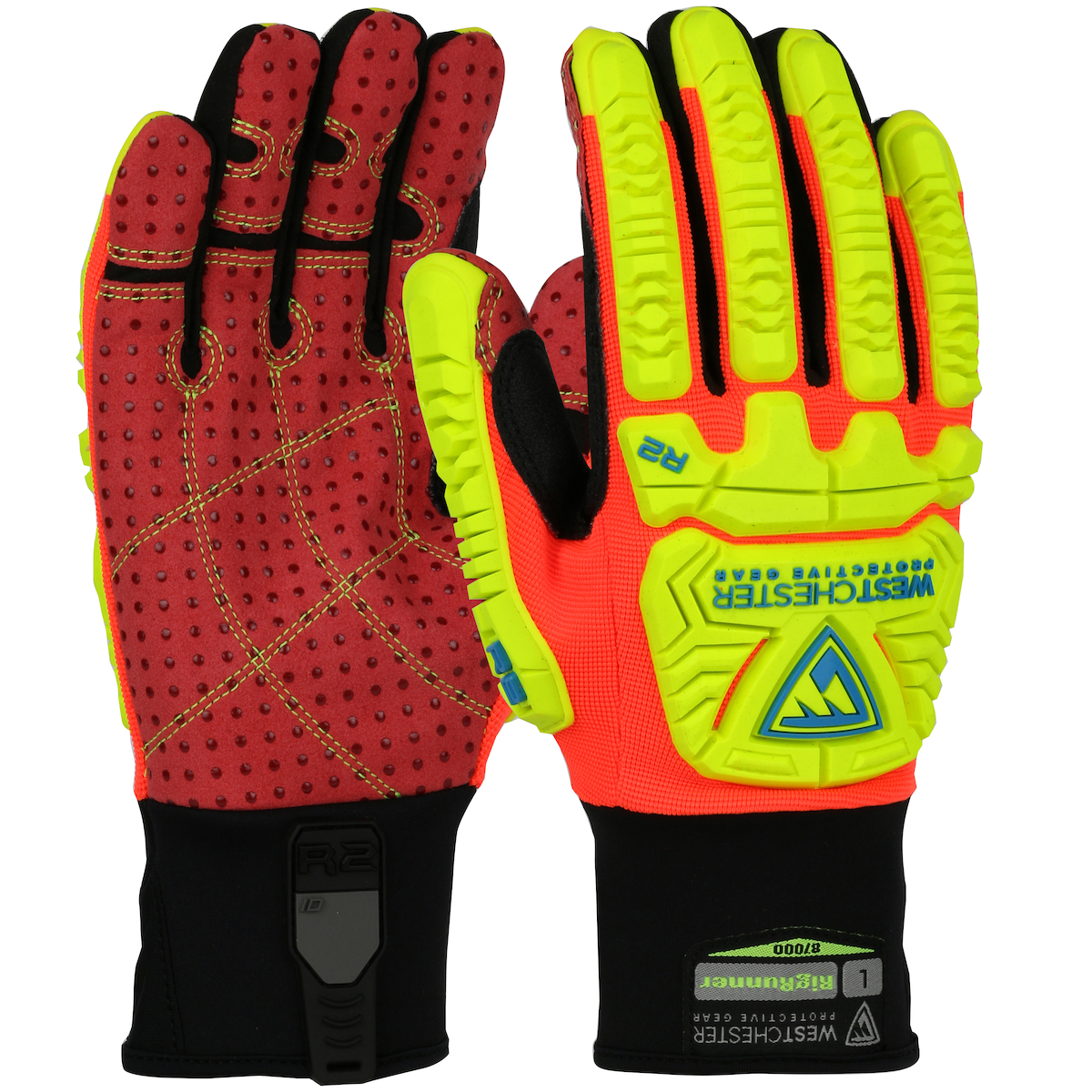 R2 RigRunner™
R2 Rig Runner
87000
Coating: PVC
PVC: Durable resistance and barrier protection against petrochemicals, oils and grease. While it is flexible, PVC does not provide the tactile sensitivity associated with most rubber products.

View All PVC
Grip: Dot
Dot: Patterns such as dots, blocks and palm coatings in a variety of polymers provide an enhanced grip, performance and durability. String knit/ambidextrous gloves can have a pattern screened on both sides to extend the life of the glove.

View All Dot
Product Description
Ideal for petrochemical, heavy/light construction, auto repair, demolition, manufacturing, mining, fabrication, landscaping and HVAC.
Features
Synthetic leather palm enhances grip in dry and light oil applications while providing dexterity
PVC dot grip on palm and fingertips provides an enhanced grip and extra cut/abrasion resistance
Thermo Plastic Rubber (TPR) molded finger, thumb and back hand guards for maximum protection
Hi-Vis coloring makes this product very easy to see
Long neoprene slip on cuff with ID tag and place for name
Launderable for extended life and to reduce replacement costs
Related Product Dowloads
Snythetic Leather Double Palm
Red PVC Dots on Palm and Fingers
Impact Protection
TPR on Back of Hand
Long Neoprene Cuff
EN388 Results: 3342
EN 388 2016 Results:Abrasion: 3Cut (Coupe Test): 3Tear: 4Puncture: 2Cut (TDM-100 Test): Impact Protection:
EN 388 is a European Standard. Cut Level is determined by the number of cycles it takes a spinning circular blade, that is pulled across the material under a constant weight of 500 grams, to cut the fabric. As the number of cycles increase, so does the glove's ratings. Click here for more information about the EN 388 2016 standard.